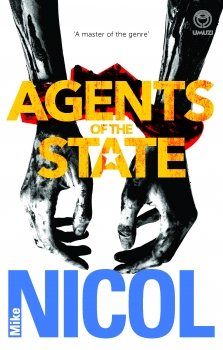 Bring in the child trafficker. That's Agent Vicki Kahn's assignment, her first foreign mission for the State Security Agency. That the child trafficker is a top fashion model with connections to the president's son is an added complication. Especially when Vicki watches as the model's limp body is wheeled away at Schiphol airport. Then, in Berlin, she finds her contact dead on the kitchen floor, shot in the head. Get out, Vicki's instincts tell her. Get out now. Vicki's lover, PI Fish Pescado, is working another case. Find out who shot my husband, is his brief. The husband: a rebel colonel from the Central African Republic taken down in a spray of bullets on the steps of St George's Cathedral. As Fish digs he comes up against a local connection: none other than the South African president. Drop the case, he's warned. Go surfing. And take your girlfriend Vicki Kahn with you before it's too late. Secrets, conspiracies, vested interests, commie plots. Vicki and Fish are caught int he mix, with only one way out.
Also available from in the UK from Old Street Publishing, from Umuzi in Afrikaans as Staatsrotte; in German from btb Verlag and French from Gallimard
About the Book
'Some of the best crime fiction you could read' – The Sunday Times
'World class…Pace, wonderful characters and brilliant dialogue' – Elle
Other Books in "The Fish and Vicki Series"
Disclosure of Material Connection: Some of the links in the page above are "affiliate links." This means if you click on the link and purchase the item, I will receive an affiliate commission. I am disclosing this in accordance with the Federal Trade Commission's
16 CFR, Part 255
: "Guides Concerning the Use of Endorsements and Testimonials in Advertising."